>

>

>

VOSTA LMG secures order for Dredge Automation and Side Suction Pipe Gantry Systems from Conrad Shipyard
VOSTA LMG secures order for Dredge Automation and Side Suction Pipe Gantry Systems from Conrad Shipyard
26 | 04 | 2021
Conrad Shipyard L. L. C. has awarded VOSTA LMG Components & Services B.V. orders for a Dredge Control and Monitoring system (DCMS) and Side Suction Pipe (SSP) Gantry System. These systems will be implemented in the new 6.500 yrd3 (5.000 m3) Trailing Suction Hopper Dredge (TSHD) that Conrad Shipyard is currently building for Great Lakes Dredge & Dock Corporation (GLDD) at its Deepwater South shipyard in Amelia, Louisiana, USA. Delivery of the vessel is scheduled before the end of second quarter 2023.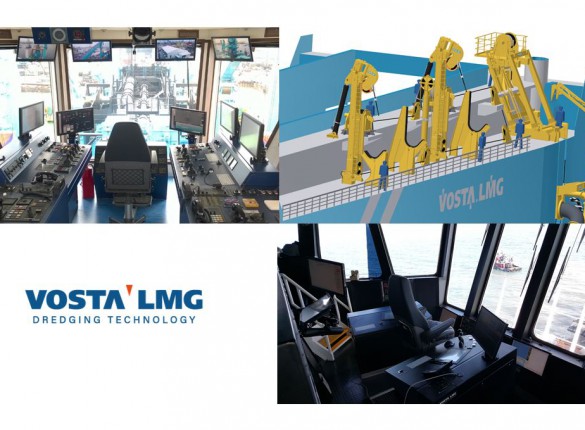 This new dredge will be the third GLDD vessel fitted with VOSTA LMG DCMS. Our DCMS is a leading-edge automation system designed to control and monitor all dredging equipment on board the TSHD. Some of its main features include multiple operating modes for the side suction pipe, sophisticated control of the dredge pumps, draghead visor, overflow weirs, bottom doors and green valves, a comprehensive loading computer, and advanced datalogging and trending facilities.
The SSP Gantry System is custom-designed by VOSTA LMG to fulfil specific customer requirements for safe operation of the SSP under all conditions. The system includes a swell compensating system guaranteeing a proper operation of the dredge with permanent draghead contact on the ground for wave heights up to 4,5 m.
"We are very happy to announce this important order, following the design and engineering of the SSP Gantry System in close cooperation with GLDD" says Gerrit Kamerman, Commercial & Technical Director at VOSTA LMG. "This order reaffirms VOSTA LMG as a leading provider of high-tech dredging solutions and we want to thank Conrad for this opportunity. We are looking forward to working closely with the shipyard to supply the best tailor-made dredge equipment to GLDD."
More information on dredge equipment can be obtained through the VOSTA LMG global sales network and the company website: www.vostalmg.com .
---